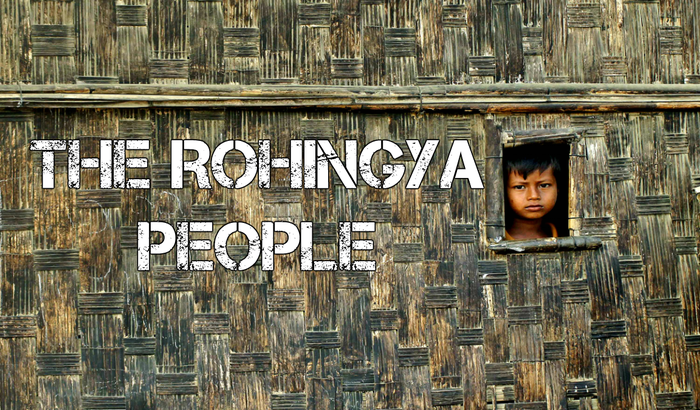 Written by Dr. Zarina Othman / Associate Professor of Universiti Kebangsaan Malaysia (National University of Malaysia)
Translation by Yueh-Wen Chen / MA Students, Graduate student of Institute of International Politics, NCHU
We were greeted with a smile by a beautiful flight attendant when flying by Biman Bangladesh Airlines in February 2017 from Kuala Lumpur, Malaysia to Dhaka, Bangladesh (formerly known as East Pakistan). Being one of the two women passengers in the airline (with two other flight attendants, made it all four women altogether), is a common scene in the airlines. The rest of the passengers were the Bangladeshi male foreign workers who returned home briefly for vacation with loads of goods from Malaysia, the land where they earned their income.
---
2017 年 2 月,伴隨著空服員美麗溫暖的笑容,我們搭乘孟加拉航空(Biman Bangladesh Airlines)從馬來西亞的吉隆坡飛往孟加拉首都達卡。機上除了兩位空服員加上我與同行的夥伴,總共才四位女性,這在孟加拉航空是相當常見的景象,其餘乘客大多為孟加拉男性,藉著假日空檔短暫返回孟加拉與家人團聚。
---
Bangladeshi workers constituted the second largest foreign workers population after Indonesians in Malaysia's four million foreign laborers. In Bangladesh alone, about 2.8 million Bangladeshi household members were living overseas in 2011 (National Population and Housing Census). The majority of them, roughly about 95 percent were men. However, the Bangladeshi female workers have increased from 1 percent in 1994 to 18 percent in 2014. The Gulf Cooperation Council (GCC) states are the most important destinations for Bangladeshi laborers.
Our destination will be Cox's Bazar, the most beautiful beach located in the Southeastern tip of Bangladesh; nevertheless, our intention was to visit Refugee Camps. There are at least two main refugee camps in Cox's Bazar, one is Kutupalong and the other is Nayapara. We headed neither Kutupalong nor Naypara. We were more interested in studying the "unregistered" refugee camps. Those settlements were newly established due to the October 2016 Unrest, in Maungdaw, Myanmar.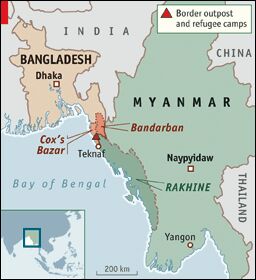 We first landed in Shahjalal International Airport Dhaka. Dhaka is the capital city of Bangladesh the independence from Pakistan in 1971. Bangladesh is strategically located between India and China, between South and Southeast Asia, and its coastlines lie at the top of the Bay of Bengal. It is a middle power with a GDP growth rate of approximately 7.05% in 2016 (Bangladesh Biro of Statistics 2015-2016). Bangladesh is also a founding member of the South Asian Association for Regional Cooperation (SAARC), the Bay of Bengal Initiative for Multisectoral Technical and Economic Cooperation (BIMSTEC), the Bangladesh-Bhutan-India-Nepal Initiative and a member of the Commonwealth Developing 8 Countries, the Organization for Islamic Cooperation (OIC), the Non Aligned Movement (NAM), the Group 77 (G77) and the World Trade Organization (WTO). Perhaps, Bangladesh is one of the largest UN Peace Keeping Forces. It is not surprising considering its huge population, which is about 161 million people.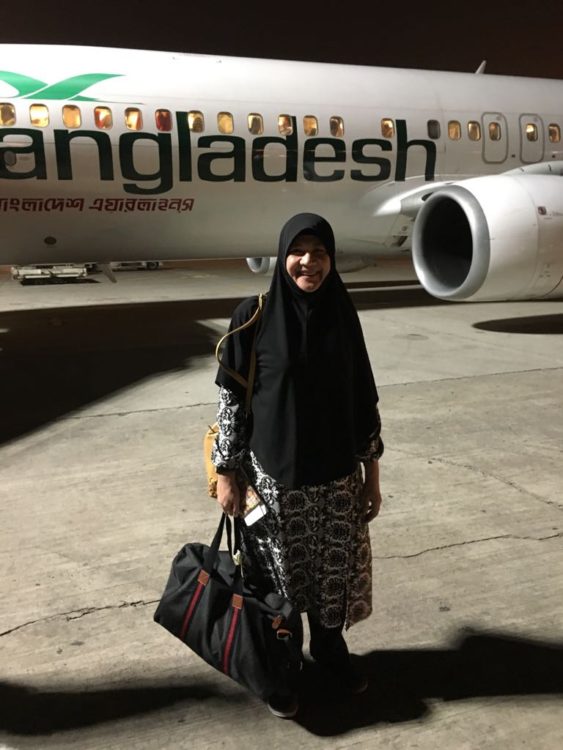 (Happy face after long journey !)
Economically, Bangladesh is one of the largest textile exporters. I took the opportunity and bought several cotton saris to be brought home as the most memorable souvenir. Upon arrival in Dhaka, at around 7 am we were forced to find a temporary place to stay, a budget hotel nearby, since there were no locker services provided in the airport while our connecting flight, Dhaka-Chittagong, would be at 10 pm. We changed our USD into BDT (Bangladesh Taka) — USD1 is about BDT 80, therefore we had to carry a lot of cash with us. Not only we carried our own money but also cash for Rohingya refugees, through our Corporate Social Responsibility–Refugees Fundraising Collections from Malaysia. They would be dispensed to the refugees later. Our hotel was about 30 minutes away from the airport and it costed about USD5. We survived!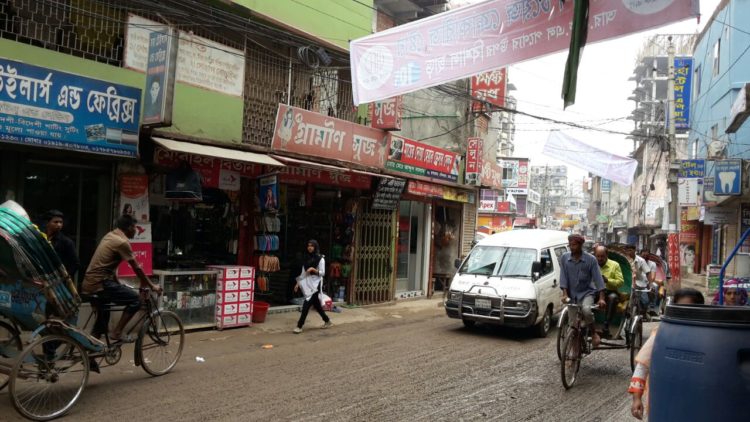 ( In front of our five dollar hotel)
God knows how hungry we were but I had no idea where and what to eat. We kept drinking a lot of mineral water to avoid dehydration and off to our first destination, the Department of International Relations, University of Dhaka (DUIR), which is about 1 hour drive by compressed natural gas (CNG) vehicles, a very common and cheap kind of local transport in Bangladesh. I met Professor Dr Ehsanul Haque, the Chair of the Department. I was grateful because Professor Haque served us 'Halal' Chinese style food for lunch. We had an unofficial brief discussion about possible future academic collaboration between my university, Universiti Kebangsaan Malaysia (UKM) and DUIR.
Although the trip was on my own capacity, the network was an important first step for further collaboration. We exchange books and academic journals. My trip was worthwhile when I toured the university and bought some academic books written by local scholars (in English) as well as when I bought some local colorful bangles by vendors on campus.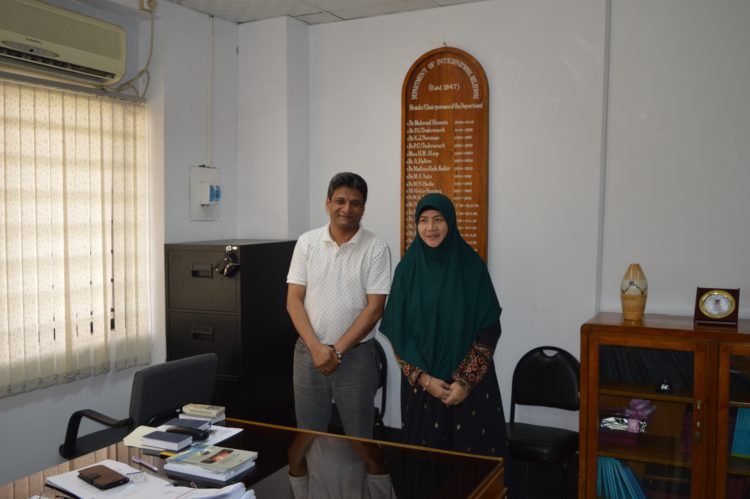 (With Professor Ehsanul Haque)
We returned to the hotel and got ready to move. However, we had a big problem because our luggage got heavier and were told that we could only carry half of the weight since we were now travelling in a domestic flight. After much negotiation, I made the confession that my luggage was filled with donations from the staff to be delivered to Rohingya refugees in Cox's Bazar.
After two hours flight we arrived in Shah Amanat International Airport, Chittagong, and were greeted by a driver. He took us to an attractive guesthouse. Chittagong is a major coastal seaport and the second largest city in Bangladesh. It is populated by approximately 2.5 million people. We were eager to explore the city but time did not permit us to do so. Arriving late at night even made it harder for me to view the scenery of this city. Upon arrival, we were served some delicious corn soup, chicken curry and mutton.
My job started the second day in Bangladesh–to interview an October 2016 Unrest rape survivor. Her name is Shahanaz (not her real name) who was 12 years old. She was accompanied by an adoptive parent and told us the horrific incident. She was gang raped and managed to escape. Shahanaz was only one of the many true untold stories. The humanitarian crisis must be stopped; it is unacceptable in today's world. What went wrong in Myanmar?
In 1982, when the Burmese military regime started their Citizenship Law it led to the world suddenly focusing on the mass migration of this ethnic groups. Being a professor who had done extensive research on Myanmar and human security, Rohingya issues certainly attracted my academic attention. Currently, Rohingyas are stateless and are the most persecuted ethnic group in the world. The problem remains.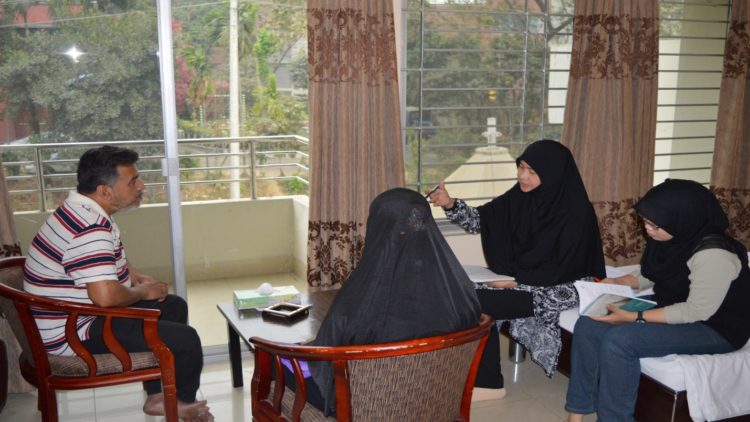 (Interview session with Shahanaz)
The same day after the interview, we took a van and travelled south to Cox's Bazar. We were going to meet many other refugees and unearth their stories. The journey took us about seven hours. A long journey in the countryside is always an interesting panoramic view. We arrived in Cox Bazar at around 8 pm. Cox's Bazar, is the world's sandy longest beach on earth. It was amazing to see the beauty of the untouched beach of Cox's Bazar. It is also a fishing town in the Southern part of Chittagong.
Our first day in Cox's Bazar was extremely busy. Early in the morning, we conducted several interviews with October 2016 Unrest rape survivors. Their husbands' whereabouts were unknown or missing, their fathers were killed, their brothers were shot to death, babies were thrown into fire, houses were burnt, their land was taken away and plantations were destroyed. The interviews took us about 4-5 hours. When we reached our hotel, we started to transcribe all interviews. At night we had Bengali cuisine for dinner, it was delicious. In fact, we invited some of the refugees to join us whenever we could. It continued for three days in a row. In the evening, we had the opportunity to explore the white sandy beach of Cox's Bazar. It was breathtaking, unexplored, virgin and the most pretty.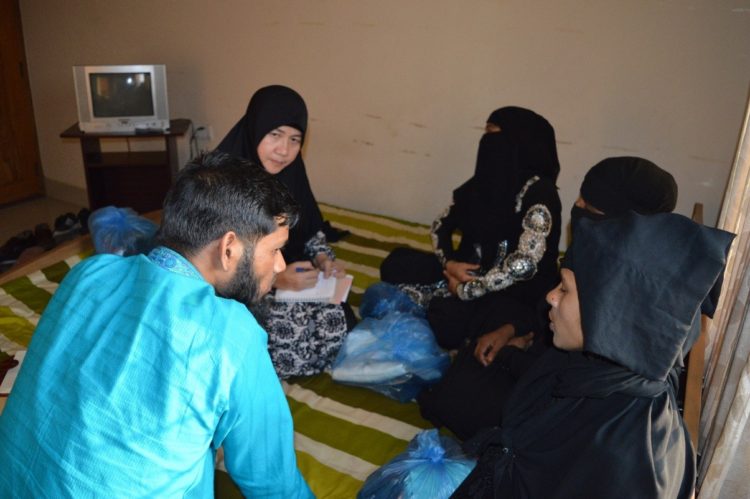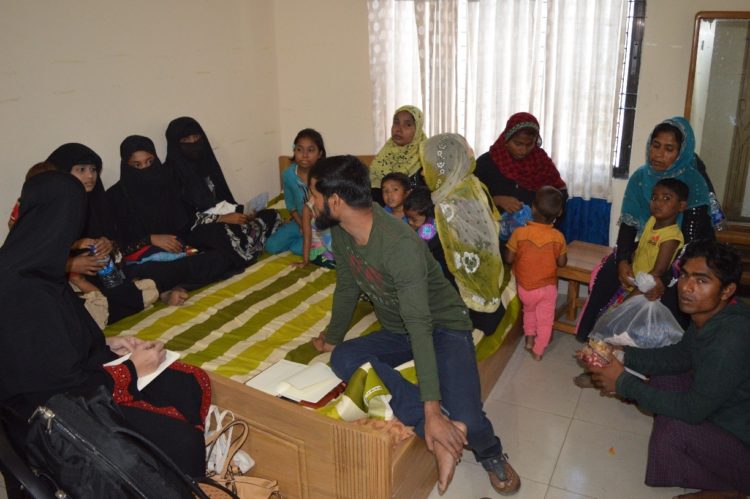 (Interview sessions)
During the last day in Cox's Bazar we had the opportunity to travel south from Cox's Bazar to meet with other groups of refugees and distribute all the humanitarian assistance we had. It took us another hour and thirty minutes. Travelling along the longest beach on earth made me realize how easy it is for the refugees to escape by boat, to either Thailand, Malaysia or Indonesia. One thing that caught my eye was a unique fishing boat. It almost looked like a Viking Yacht except for the smaller size.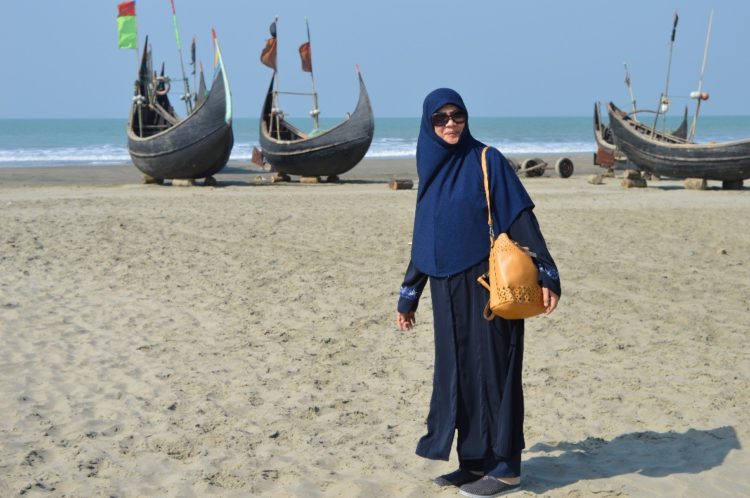 The victims live in huts made out of sticks and garbage bags. By the beach where they live, they create their own garden to grow vegetables, mostly hot red pepper and spinach and their own rice field. The rice field was important because of the rice, but the mud from the field was an alternative solution to substitute cement. They were too poor to have their home cemented. Having dry mud later would be good enough. There was no running water and no electricity, no proper toilets. They only live with one or two shirts and a sarong. They did not go to school. They have to walk at least five km to get fresh and clean water. Some donated water pumps can be seen in some areas.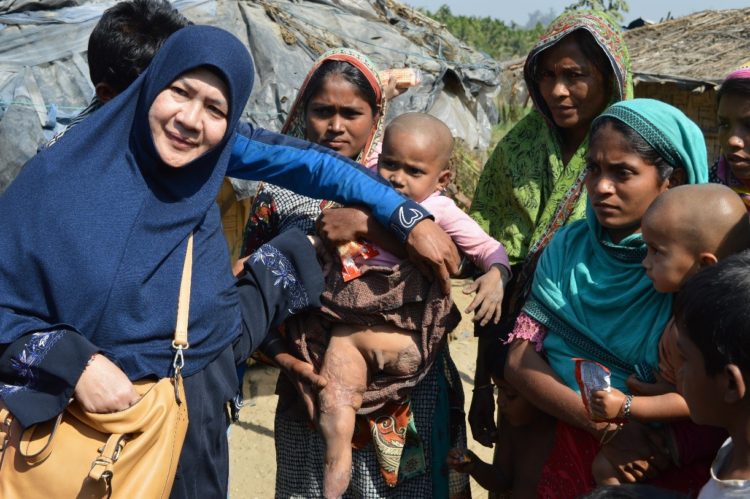 (Land mines victim)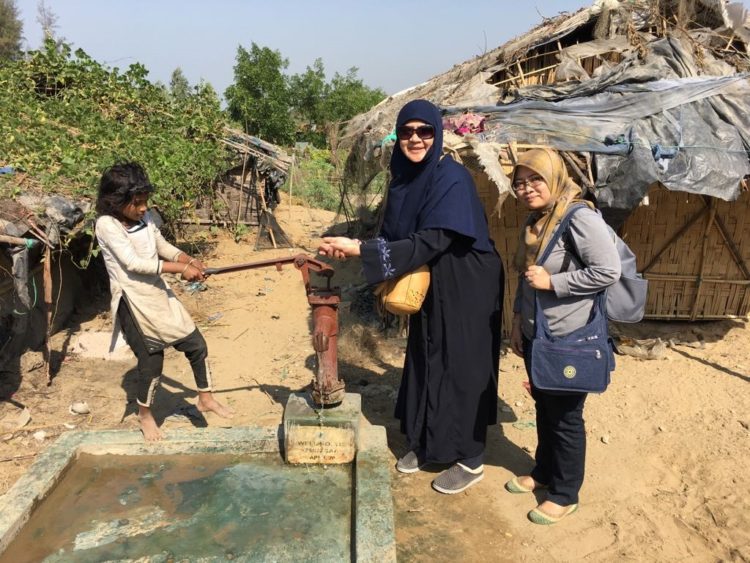 I was determined to return and help them build more water pumps and private schools in order for them to be self-sufficient and independent.
Thanks to the Bangladeshi people, for providing a space for the refugees, to the Rohingyas, for being patient. You must stay together under One Rohingyas no matter what. To the Burmese Regime, you must be fair at treating your people, because humanitarian issues cannot be tolerated at all. I hope to complete the manuscript and publish an empirical book about the survivors. The next day we left the countryside and did some minor shopping in Dhaka before returning home. Sure, we will return one day.
---
#Written by:
Dr. Zarina Othman, Associate Professor
Program of International Relations and Strategic Studies
Research Center for History, Politics and Strategic Studies
Faculty of Humanities and Social Sciences
Universiti Kebangsaan Malaysia (National University of Malaysia-UKM)
Bangi 43600 Selangor, MALAYSIA
+6-019-334-7490
---